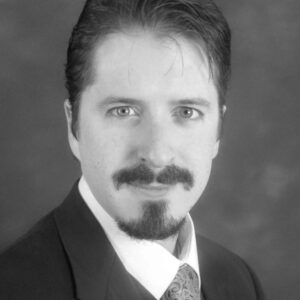 John was born and raised in Cincinnati, Ohio as the middle of 5 children. He graduated from St. Xavier High School in 1995 and Miami University in 1999 with a degree in Classical Humanities and Italian.  He has spent much of the past 25 years working in music as a performer, an audio engineer, a record producer and a songwriter.  The desire to build Cincinnati's music community with better business management and legal representation  led him to the practice of law.  He earned his J.D. from Salmon P. Chase College of Law at Northern Kentucky University and was sworn in to the Ohio Bar in November, 2011.
He brings a broad range of experience to bear in his legal practice. Aside from his lengthy involvement with music, he:
held a series 7 and 63 license, trading stocks and mutual funds in the financial service industry.
held a leadership position with a design and manufacturing studio that held the first American license from the Vatican Library
helped launch the Italian division of the company at several of the largest industry events in Europe.
worked with a major market research firm to translate studies from French and Italian into English.
worked on the  SAP implementation for a major manufacturing company.
trained and managed American and Canadian customer service operations for a major manufacturing company.
served the legal community in Clermont County as a Bailiff in the Common Pleas Court
served as Executive Director of National Radio Hall of Fame inductee Gary Burbank's Cincinnati charity Play It Forward.
ran for a seat in the U.S. House of Representatives
is a member of the Ohio State, Cincinnati, and Clermont County Bar Associations.
is actively involved in music and film production and live concert events in the region.
is a father of three wonderful children.
Ultimately his experiences in these various arenas led him to start a boutique law firm serving the needs of Cincinnati's creative small business leaders.  His focus has been to provide a comprehensive client service experience for the needs of the individuals, their families, and their businesses. When not actively engaged in the practice of law, or the production or performance of music, he enjoys traveling with his wife, children, and dogs.